EDIT MAIN
ELEARNING FAQ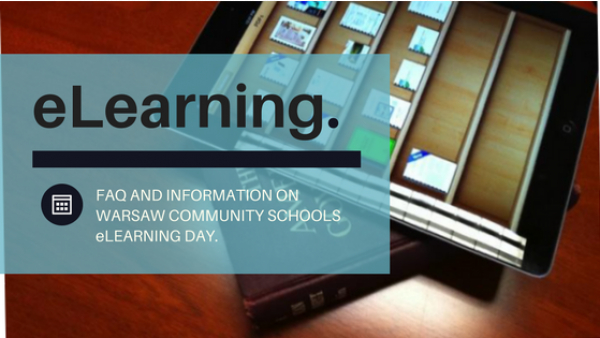 If school is cancelled, eLearning assignments will be posted on the day of the cancellation as opposed to assignments being posted on a Saturday. Please refer to the frequently asked questions below for more details about eLearning Days.
Q - When will lessons be posted on a same-day eLearning Day?
A - If the cancellation was called by 6:00 a.m. or the previous night, the lessons should be posted by 9:00 a.m. If WCS started with a two-hour delay that turned into a cancellation, lessons should be posted by 11:00 a.m.
Q - Where can students/parents find eLearning Day lessons?
A - Lessons will be posted on the individual school web pages https://www.warsawschools.org
Q - When is the work due for each learning day?
A - eLearning Day assignments are due three school days after the eLearning Day at 11:59 p.m. For example, if the eLearning Day occurs on a Friday, students will need to turn in assignments by 11:59 p.m. on following Wednesday evening.
Q - Can iPads go home in grades K-4? How will teachers know to send them home?
A - Permission slips have been created that the parent will sign once to provide consent for the iPad to come home all year for eLearning Days. If weather reports indicate that approaching weather creates a possibility for a cancellation the following day, WCS will send out an email to all staff alerting of the possibility of an eLearning Day.
Q - How many eLearning Days can we have in a row?
A - The maximum number of eLearning Days we will have in a row is three (3). If we have three days in a row, the work will be due three school days from the date of the eLearning Day. For example, if we miss a Wednesday, Thursday, and a Friday, the assignments will be due at 11:59p.m. on the following Wednesday, Thursday, and Friday, respectively.
Q - If an eLearning day occurs on a secondary block day, do students only do periods according to the block day or all seven? Do lessons need to be current with what is being taught in class? What about elementary specials? How long do eLearning assignments need to be?
A - At the secondary level, students complete assignments in classes as if it was a normal 7-period day. In elementary schools, students will only complete assignments for specials they would have attended. All lessons should reflect content that would have been covered that day in both scope and length.
Q - Will schools be open before and after school to help those students without Internet access?
A - Yes. One computer lab or the media center should be staffed and open in each school before/after school for one hour on each of the three school days following an eLearning Day. Students can also visit businesses with free Internet access, the public library, and our wireless bubble extends outside all of our school buildings. Finally, WCS has some mobile Internet hotspots that can be checked out from the school media center.