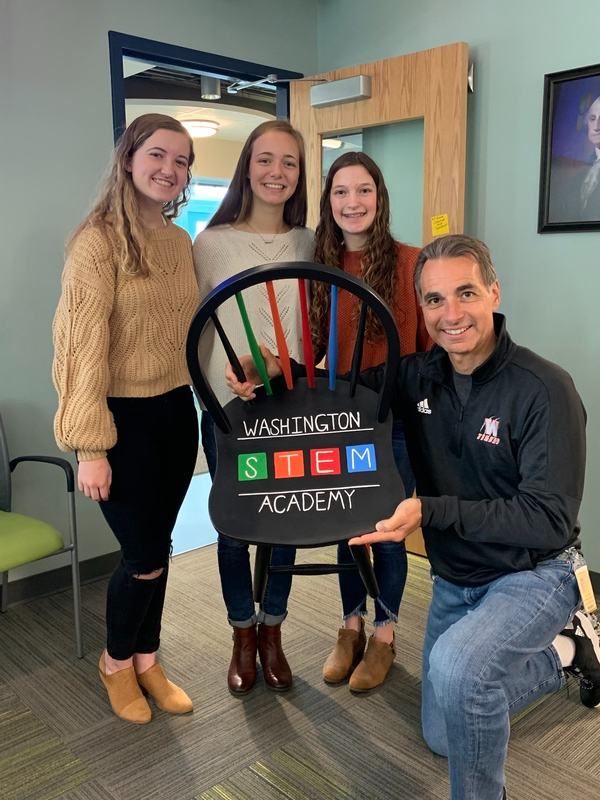 Washington STEM Academy embraces our district's mission - to inspire and equip all students to continuously acquire and apply knowledge and skills while pursuing their dreams and enriching the lives of others. At Washington STEM these are not simply words on a paper, but words that drive all we do for our students. Washington STEM is focused on the students first and foremost. The team of educators, students, parents, business partners, community members, and district personal work collaboratively to create a safe and engaging learning environment for each Washington STEM student.
Washington STEM Academy is a beacon of STEM education in Northern Indiana and is proud to be one of first schools awarded STEM Certification from the Indiana Department of Education.
As part of the Warsaw Community Schools (WCS), Washington STEM has a population that reflects our district's diversity. The district encompasses an area of 25 miles by 35 miles. Some Washington STEM students reside in some of our area's most affluent homes while other Washington STEM students reside in our local homeless shelter. The free and reduced rate averages 45%. However, when parents and community members spend time in the building the socio-economic statuses are difficult to spot. Our students and their families are all Washington STEM Academy Hornets.
Washington STEM embraces our community's rich distinctions as both the Orthopedic Capital of the World and the City of Lakes. Washington STEM has built dynamic STEM curricula focused on these distinctions. Students can be found in waders studying endangered mussels, sharing Project Based Learning (PBL) projects with families and community members, working with local engineers to design knee braces, or working with area chefs to discover the science in cooking. Washington STEM students inquire, engage, collaborate, and present to authentic audiences.
Fulfilling our mission for every student is the vision each stakeholder holds for Washington STEM Academy. Our mission is the catalyst for designing and implementing STEM curriculum that will prepare and propel our students for the 21st Century. WCS shares our community with the global orthopedics manufacturing leaders, the largest soybean biodiesel plant in the country, the leaders in both duck and chicken production, and a thriving agricultural industry. Through collaboration with our industry partners, WCS and Washington STEM are very aware of the need to educate students with not only academic skills, but also employability skills. Washington STEM has been intentional in the creation and implementation of a collaborative, inquiry, problem-solving, learning curriculum and environment.
This curriculum was designed with the input of community and business stakeholders. The collaboration with our community and business partners continues to be strong and growing.
Parent, community, and business partners are a common fixture of the daily school day – so common that some students do not recognize that these people are actually 'guests'.
A sample of our Washington STEM Academy's community partners include but are not limited to: Air Force Association, Department of Natural Resources, Kosciusko Soil and Water, Wihebrink Landscape Management, Paddle 4 Conservation, Orthoworx, Teachers Credit Union, Science Central, Kosciusko County Recycling, ZimmerBiomet, Tecomet, Medtronic, DePuy Synthes, Grace College, Manchester University, VIA Credit Union, TCU Credit Union, City of Warsaw, Science Central, Warsaw Education Foundation, Kosciusko Community Foundation, Dekko Foundation, 80/20 and Ball State University.
It is the norm for Washington STEM students to share their time, talents, and treasures to authentic audiences, many of who are the community and business partners mentioned above. Each summer Washington STEM students share their extensive knowledge of our community's lake and streams at the Lakes and Streams Festival. They have presented their findings to local community organizations such as the Optimist Club, the Lions Club, and the Rotary Club.
Washington STEM students practice student stewardship throughout the year. Often facilitated by Washington STEM's Student Council, students have participated in many successful food drives, coat drives, and shoe drives. Washington STEM students were part of raising funds and packing over one million meals as part of Feed My Starving Children. Students of all socio-economic levels serve as student stewards and embrace the 'enriching the lives of others' part of our mission.
While Washington is a STEM Academy, it remains a neighborhood, public school that has been a hub of its neighborhood for decades. It is common at basketball games, Donuts and Dads, Special Persons Day, etc. to find parents (and even some grandparents) pointing to their names and pictures in the trophy cases.
The opportunities for Washington STEM students and their families extend well past the traditional school day. In addition to the traditional sports opportunities, students can be found singing in choir, learning and competing (quite successfully) in chess club and robotic clubs, participating in student council, and more. Families join in at skate nights, carnivals, PBL presentations, etc. The monthly school calendars are filled with opportunities for students and their families to be involved and included.
Washington STEM Academy is proud of its students, families, and community. We look forward to continuing to grow and learn as a family. Please learn more about us at www.warsawschools.org/washington and on YouTube at Washington STEM on YouTube