Eagle Creek is a popular research area for the public to visit. On a regular basis this area is visited and researched by Washington STEM Elementary School and Edgewood Middle School students. Both schools are within walking distance. This area boasts a wooded area, an outdoor classroom, storage shed (for research equipment), seating, and trails. Eagle Creek boasts both aquatic and land plants. Students study the physical science that this area supports.
This project, "Post It" is a collaborative effort between Sarah Tucker's 5th grade students from Washington STEM Academy and Design & Modeling (7th/8th) students from Edgewood Middle School. Design & Modeling students at Edgewood designed and produced educational signs for the students and public to learn about our resources at the Eagle Creek natural resource area. Isaac Martinez and Luke Smith led the team of designers in producing the signs. These educational signs were produced by students using a CNC Router and a CO2 laser. The signs include a QR code that links to detailed information about the natural resource. The signs are placed near the natural resource so that students and the public will continuously be educated about our natural resources. The QR code links to the 5th grade student's research on that particular natural resource. This grant was written by Abbi Richcreek and made possible by Kosciusko County Community Foundation and Arrow Head Country Resource Conservation and Development Area, INC. Both organizations have funded a portion of this endeavor.
Kosciusko County Soil and Water Conservation District's Darci Zolman partnered with Washington STEM Academy and Edgewood Middle School to help identify the trees and plants at Eagle Creek. Ben Wagoner, WCS maintenance Department, installed metal poles for the cedar signage. A team of teachers including STEM Instructional Coach Josh Wall, Washington STEM Academy principal Tom Ray, and teachers Abbi Richcreek (PLTW, Edgewood), Derek Pike (2nd grade), Sarah Tucker (5th grade), and Emma Colman (Lab Assistant) worked with students during the installation of the signage on Tuesday, April 13th, 2021.
Warsaw Community Schools would like to thank all the individuals, organizations, and businesses that have supported the outdoor classroom project to extend learning and to enrich the lives of WCS students.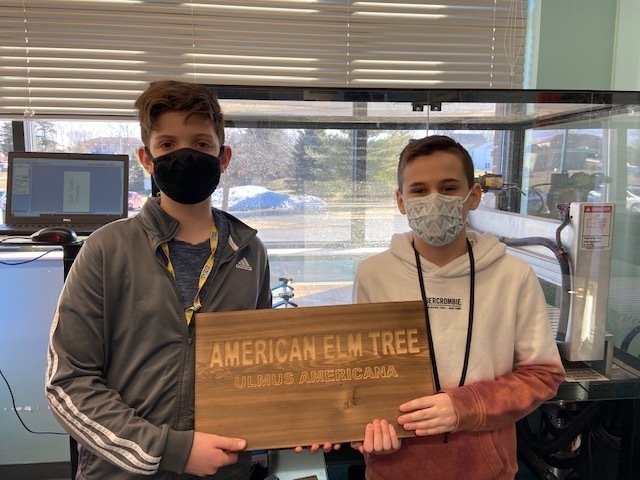 #ForwardTogether #WCSMission